CAPE Dataset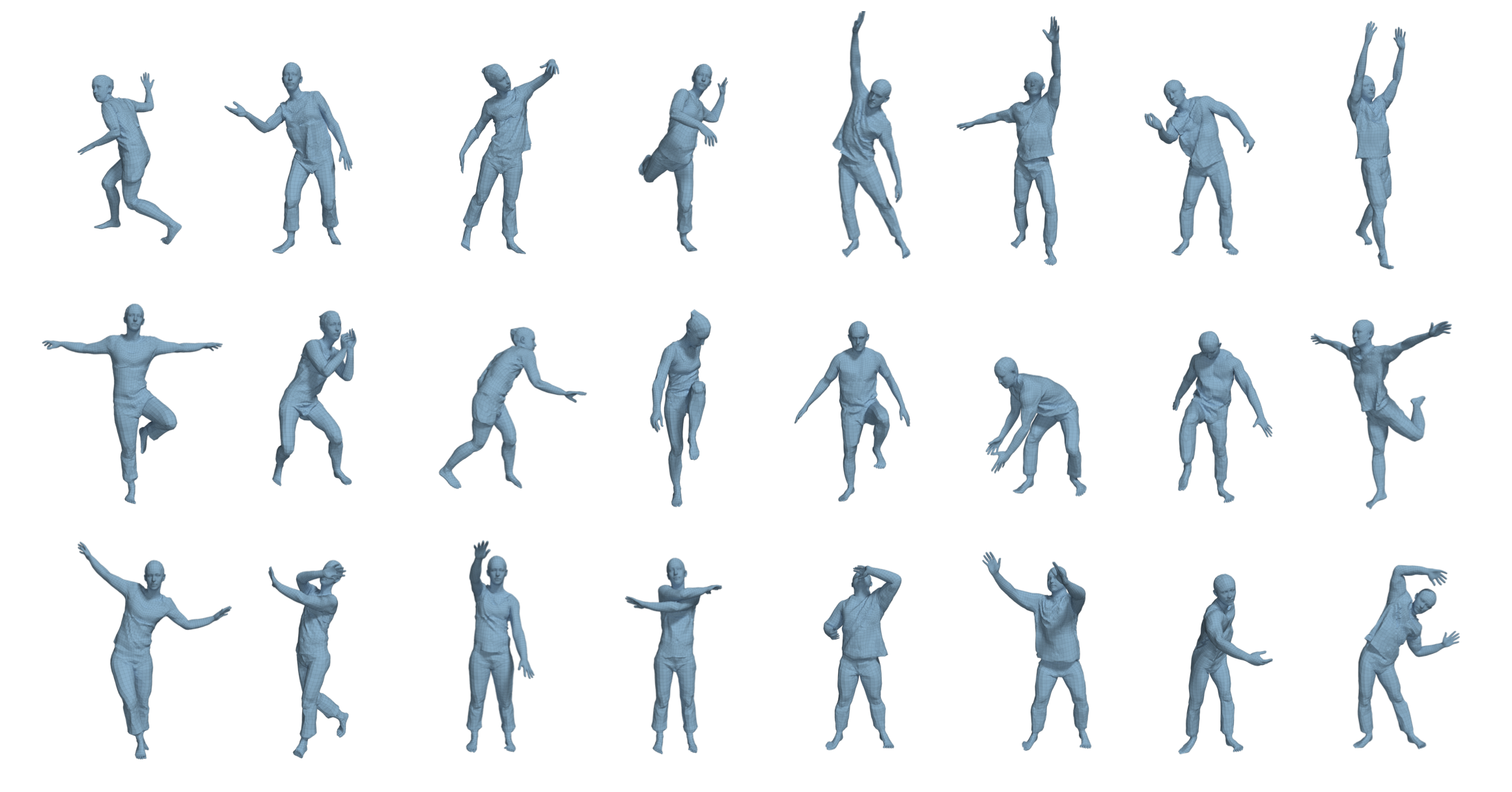 The CAPE dataset is a 3D dynamic dataset of clothed humans, featuring:
3D mesh registrations of accurate scans of clothed people in motion, captured at 60 FPS;
Consistent SMPL mesh topology, all frames in correspondence;
Precise, captured minimally clothed body shape under clothing;
Clothed bodies of large pose variations;
Both posed and unposed (i.e. in canonical pose) clothed body for each frame;
SMPL body pose parameters for each frame;
(New!) High-quality raw scan data of several subjects and sequences is available. Please first register as a user and send us your request.
Below shows a "shoulders mill" sequence in the posed space and the canonical pose space.
Stats:
10 male and 5 female subjects;
600+ motion sequences;
140K+ frames (we are providing much more than what we promised in the paper!);
4 different types of outfits: short upper body clothing with long trousers (denoted as "short long"), and "short short", "long short", "long long"; this covers 8 common garment types: short T-shirts, long T-shirts, long jerseys, long-sleeve shirts, polo shirts, blazers, shorts, long trousers.
Example usage:
Non-rigid registration;
Clothing modeling;
Estimation of body shape under clothing;
Dynamic 3D shapes modeling and evaluation;
Graph neural networks training and evaluation;
As a digital wardrobe for any applications using SMPL;
... and many more!
The dataset is available for downloads. Please sign up and agree to the license first for access to the data.
CVPR 2022 Update:
Following CVPR 2022 recommendations on the use of datasets, we would like to declare that:
All subjects gave prior, written, informed consent for the capture and use of their data for research purposes. The experimental procedure and consent form were reviewed by the University of Tuebingen Ethics Committee with no objections.
---
Related projects:
We use the method in ClothCap (single mesh alignment) to align the clothed body. CAPE dataset incorporates the scans and registrations of ClothCap.
We use the method in BUFF to bring clothed body scans into the canonical "T" pose.